When CoreFiling undertook a survey of data collectors, we found a core message coming through:
"Writing taxonomies should be as easy as possible and as automated as possible!"
CoreFiling took this on board when moving our Taxonomy Management System (TMS) out of the exclusive hands of our delivery team and into the hands of our customers. Now, with the TMS, writing and publishing a full taxonomy is as easy as one-two-three.
Step One – List items in a dictionary
The TMS dictionary is a list of items and breakdowns that are allowed to be used in forms and other data definitions. Each item is defined by its type and label and can also be tied to internal definitions and external references. The dictionary provides a focal point for harmonisation and governance of report definitions.
Screenshot showing list of allowed reportable concepts (measures/metrics) in a TMS dictionary.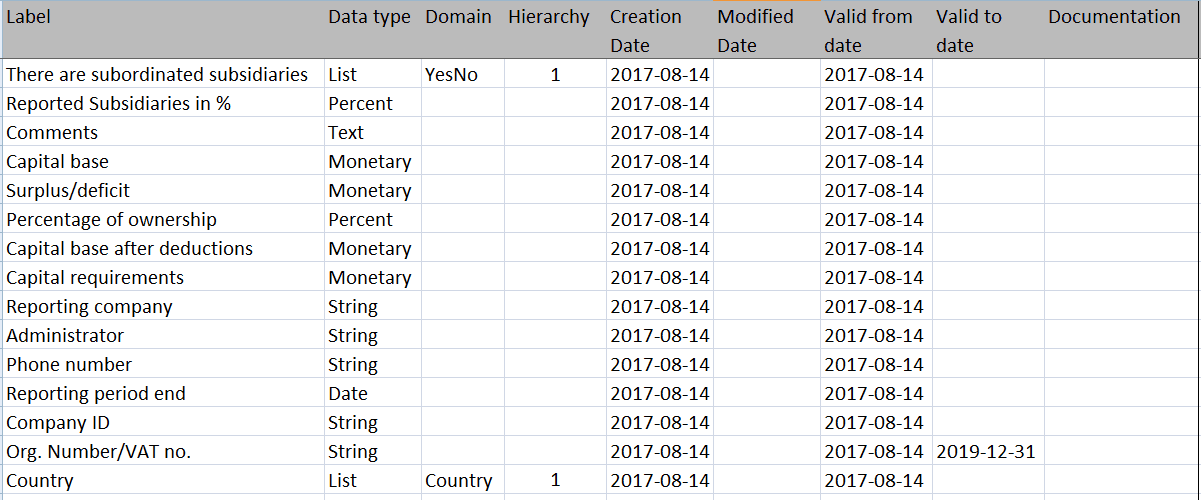 Writing the dictionary is as simple as filling in the relevant columns for each recognised item and breakdown.
Step Two – Mark up forms
One of the most natural ways for business users to understand their data is through tables and lists in a spreadsheet. The TMS allows for the reports in a taxonomy to be defined by users marking up tables and lists with items from the dictionary.
Screenshot showing a marked up table for reporting a list of counterparties (annotated template).

The TMS adds these layouts to the taxonomy and they are then used to generate data entry spreadsheets or web forms or to view the data. In addition, the process of marking up means that the business user can effortlessly create a multi-dimensional model which can be used for loading the data into business intelligence tools.
Step Three – Download
Once your dictionary and marked up forms are in place, then the TMS automation kicks in. This generates the XBRL taxonomy and runs automated tests and quality checks. It produces not only the taxonomy but a host of other documents and specifications which would otherwise take days or weeks to produce. After a few minutes with the TMS, the taxonomy and documentation is ready to download.
The taxonomy generated is guaranteed to conform to the XBRL specification, making it vendor-neutral and portable. Corresponding database definitions or xBRL-CSV and xBRL-JSON standards are also provided as standard outputs.
Screenshot of the Taxonomy Management System showing the automated generation and test of taxonomies and related artefacts.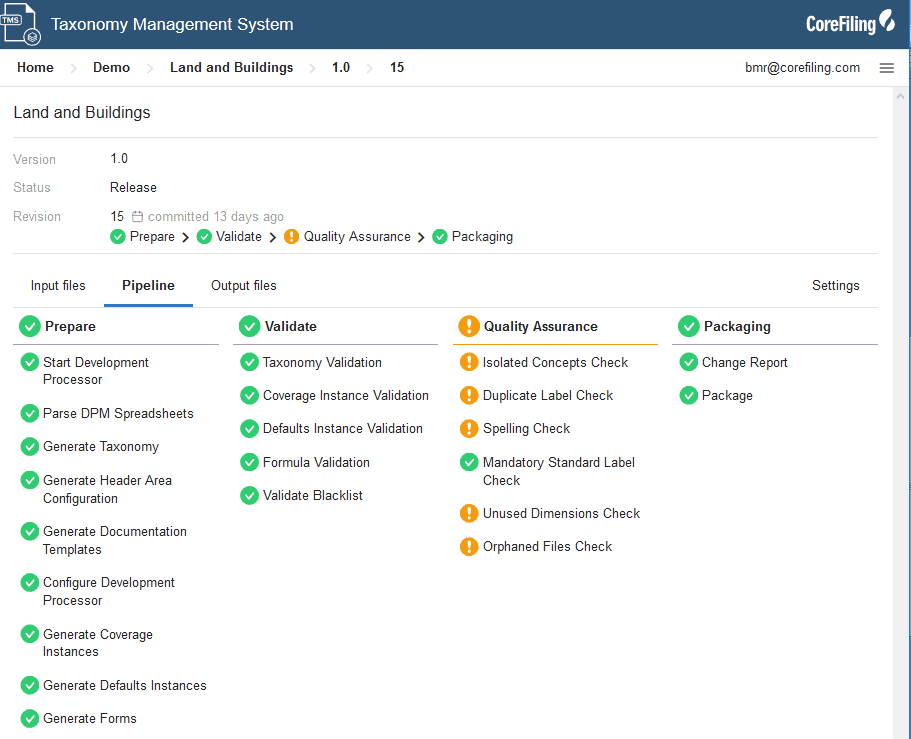 Is there more?
Within this simple framework the TMS provides the flexibility to add business rules, hierarchies, use organisational master data and scale to hundreds of reports with millions of data points.
CoreFiling are currently running hands-on taxonomy workshops. In these, you can see how easy it is to build a taxonomy using state of the art software, building a taxonomy with the guidance of our expert consultants.
For more information and to book a workshop visit: https://www.corefiling.com/taxonomy-workshop/