It is becoming common for data collection programmes to release versions of taxonomies with an expectation that external stakeholders will provide feedback on issues based on their own testing. Subsequent work and new releases allow the data collector to reach the required level of quality for data collection. While it may seem attractive to outsource in this way, is it really an efficient process?
The approach can be characterised as "quality control" whereby a finished product (the taxonomy) is examined for errors. A more efficient process is "quality assurance" whereby quality is baked in to the process. An indicator of good quality assurance is that no issues are found at the final examination. Achieving this for reporting programmes means that final taxonomies are available months earlier and massively reduces the cost of data for collectors and the reporting burden for filers.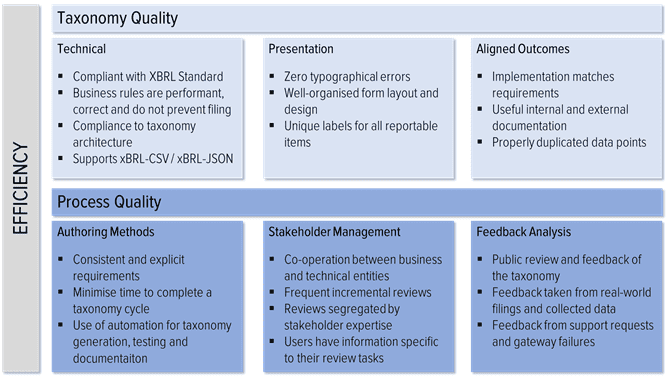 Through our Taxonomy Management System, we have optimised the quality assurance approach to make taxonomies more efficient. Below are some of the features the TMS provides to make your first release the final release.
Technical quality: TMS uses continuous testing to check for errors and performance issues every time the taxonomy or rules are changed. Borrowed from long standing standard practice in software development, this approach flags issues as soon as they happen and when they are trivial to fix.
Aligned outcomes: TMS applies structure to the requirements capture of the taxonomy and business rules. This removes any ambiguity in requirements and starts the process with inputs which are perfect achieving a high quality output.
Authoring methods: TMS automatically generates the taxonomy. This eliminates the human risk factor from the implementation of changes and guarantees the same output for the same input.
Stakeholder management: The TMS ensures the shortest feedback loop from defining requirements to seeing the result. This means that it is easy to keep the business experts engaged in the process.
CoreFiling's Taxonomy Management System and supporting services are compatible with in-house and third party taxonomy solutions.
To find out more, contact us.