EU Taxonomy reporting
To drive forward sustainability goals and define what is meant by sustainable activities, the EU taxonomy has been created. It lists company activities which:
Contribute substantially to one or more of the EU's environmental objectives
Do no significant harm to any of the environmental objectives
For a company's activity to be aligned with the taxonomy, the activity must also be carried out in compliance with any minimum safeguards (e.g. the UN Guiding Principles on Business and Human Rights) and a set of technical screening criteria (e.g. industry standards that must be followed).
To report how a company is helping the EU meet their goals, they must disclose how much of their turnover, capital expenditure and operational expenditure is aligned with the taxonomy. These are often referred to as "Article 8" disclosures, named after the part of the legislation that specifies the disclosure rules for financial and non-financial companies.
The flow of Article 8 disclosures
The EU taxonomy legislation does not just specify disclosures, it also mandates usage of the resultant data. Specifically, the legislation says financial companies must use the data reported by non-financial companies to disclose the sustainability of their investments. In addition, the scope of the legislation means that data will be of interest to all three European Supervisory Authorities (ESMA, EBA, EIOPA).
This resulting need to share the data broadly and efficiently makes this reporting an ideal candidate for digital, machine readable and standardised reporting.  
However, while the legislation gives tables to define what should be reported, it falls short of giving a digital data standard, a machine readable format or method to exchange the data. This leaves an apparent gap in the disclosure requirements and potentially increases the burden of the legislation on companies as the gap is filled by third parties or national variations. The EC's own digitalisation is expected to be part of the upcoming implementation of the CSRD legislation, using the same iXBRL technology investigated here.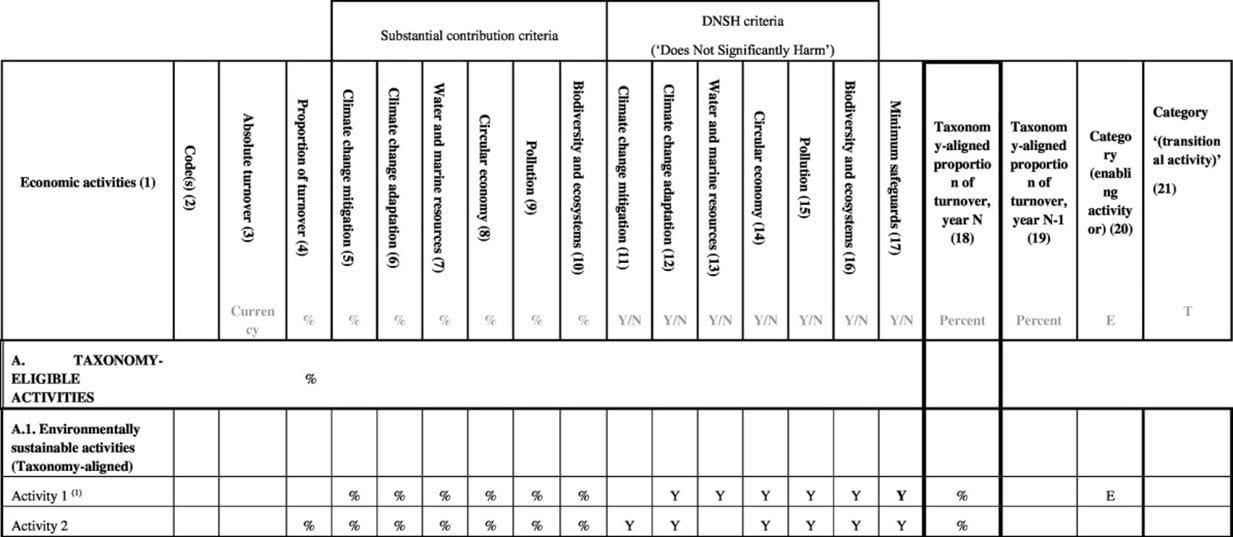 Example template for the KPIs of a non-financial undertakings
Several other jurisdictions have created similar taxonomies and reporting obligations. Each one relies on an efficient flow of data among stakeholders and can potentially benefit from digital reporting.
Digital version of the EU taxonomy and reports
Given the need in the EU and other jurisdictions for digital, machine readable and standardised reporting, CoreFiling and ESG experts Greenomy worked together to see how an Article 8 disclosure could be digitised. We used XBRL technology, as the de facto standard for company and regulatory reporting, to create a proof of concept.
An XBRL taxonomy that defines an Article 8 report according to the list of company activities was created using the True North data platform and a sample report from Greenomy was tagged to create an iXBRL document that can be read by both people and machines. As this was a proof of concept, a simplified report was used and a small subset of the data was covered.
Tagged Article 8 report highlighting tagged figures.

Article 8 report with data extracted for use by an automated system.
The proof of concept was successful, the taxonomy was produced and applied to the report to give a tagged iXBRL version of the report. Screenshots of the report showing the two views are below and the interactive version can be viewed here.
Conclusion
Legislators can reduce the burden of data-focussed legislation by mandating digital, machine readable and standardised data definitions and reporting formats. "Article 8" disclosures in the EU Taxonomy legislation are easily captured in an XBRL taxonomy and iXBRL report to make a human and computer readable document for exchanging the information.
We envisage much of the data, instructions, criteria and standards around a sustainable activity taxonomy can be captured in an XBRL taxonomy and expect standardising the reporting format would reduce the effort required to share company data. This proof of concept from CoreFiling and Greenomy has shown that this is achievable with current reporting technology.
It is not just the EU who benefit from this approach, but any jurisdiction where a flow of data among market participants is required to meet sustainability goals.
To find out more about digital reporting and how it can make the exchange of sustainability information more efficient, click below.